By Sam Catton
On this day the world was created.
On this awesome day, the Almighty King judges all of mankind. Every human being stands in judgement, as his good deeds and his misdeeds are reviewed.
Much preparation is done by us, beginning with the annulment of vows forty days earlier, and with our reciting of the Selihot during the entire month of Elul. Each person must make peace with his fellow man, to forgive, in order that the Almighty will forgive us.
The composition of the special prayers, the inspiring poetry, and the moving melodies make all hearts turn away from their perverse ways and brings them to the righteous path. The Great Judge is most anxious to be merciful to us and forgive us of our short-comings when we truly repent. For God wants every person to live.
Maimonides teaches that true repentance requires:
to specify sin
to be remorseful
to resolve not to repeat that sin again.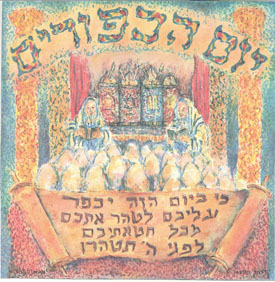 By Sam Catton
After twenty five hours of fasting, prayers, penitence and soul searching, we experience the moving recitation of "EL NORA ALILA", the God of Awe, an entreaty for pardon by the eleventh century Sephardic poet, Moses Ib'n Ezra.
We feel as angels before God as we proclaim seven times "The Lord is God" while bidding farewell to the Shechinah (the Holy Presence) as it ascends above the seven firmaments.
We stand in rapture before the Holy Ark spiritually reinvigorated for the year ahead, with our souls refined and purified.
We go home to break our fast confident that God has accepted our prayers and our Teshubah, and will inscribe us in the "Book of Life" for the year to come.

Image of High Holiday Hazzanut Prayer Selections from Sassoon Manuscript #647, Aleppo, circa 1850.
Pizmonim for Rosh Hashana according to Sassoon Manuscript #647, Aleppo, circa 1850.